Like most, my look isn't complete until I have outlined my eyes like a cartoon character. There is just something so satisfying with gliding a magic marker over the edge of your eyelid or unsatisfying with having to redo a cat eye twenty billion times. But however, my make-up day is going my Kat Von D Inkliner in Trooper is my holy grail product for my eyes.
There are so many great things about this product so I'm going to start by saying the one con about it –and it's a packaging flaw (No biggie!). When you place the liner into the cap it's a narrowing cone lid, so if you don't place the cap on squarely you may separate the bristles from the pen.
Now for all the wonderful things about the Inkliner! When the Inkliner came out, the tip was all the talk (That what's she said). The slender pointy end was a game changer for the cat eye look. Today, however, almost all eyeliners have mimicked this design in one way or another. The point is great for versatility you could have a dramatic eye or you could have a slender barely there look.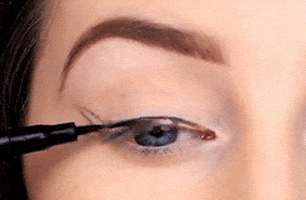 Personally, because I have combination skin (oily lids) it was the staying power of this product. I have tried this product on its own and with shadow primer and quite frankly you can save on the primer.
Also, the ingredients in this are amazing compared to other products. The Inkliner is vegan-friendly and is iron oxide free ( I have an allergy and everything black has iron oxide in it).
In terms of pricing, this eyeliner is a little on the expensive side (Sephora $25 CAD) but it lasts forever! So the investment is well worth it for an eyeliner that can achieve any look and that's why this is my HOLY GRAIL eyeliner.