I'm dying on the inside as I write this post. When I was in high school my make-up was pretty basic. I  had oily skin with some pimples here and there (it wasn't until later in my life that cystic acne was an occurrence). I would wear foundation, pressed powder, black eyeliner, and mascara.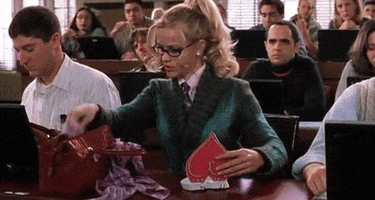 My Foundation:
My foundation consisted of Covergirl's Clean Oil control foundation. Since this is before the time of the beauty blender and I had no idea what a make-up brush was used for. I would dip a toothpick into the glass bottle and dot make-up all over my face and blend it in with my fingers.
I would then powder my foundation with layers and layers of powder until I looked like Casper the friendly ghost (I'm beyond pale). The Covergirl Clean Oil Control Pressed Powder would then look like a cakey mess.
I would use the same powder puff that came with the product with every application. By the time I hit pan, the puff would be caked solid from a mixture of face oil, foundation and powder.
If you thought I cleaning the puff was a thing guess again. I didn't learn that cleaning beauty tools was a thing until my early twenties. The powder puff would eventually look like a nude hockey puck.
Eyes:
For my eyes, I would wear Revlon's Colorstay Eyeliner in Blackest Black. Even before I knew what an "eye primer" was this would stay on my oily lids ALL day long.
However, I would have a very thin shaky line on the top eyelid with eyeliner. Followed by an even thicker border to outline my waterline.
I would then finish my look with Great Lash Mascara by Maybelline.
Looking back, its funny to see just how much I have learned about ingredients and make-up application over the years.
My look has evolved so much over the years. Today, I would NEVER put eyeliner on my bottom lid instead opting for powders instead. With all the brushes and sponges available today, I would use these methods to apply foundation over my fingers in fears of a break out.