I'll admit it when I got a sample of the Glamglow Supermud Clearing Treatment I had a very objective view towards it. In one corner, this is a rather pricey skin care item at $69 CAD. At that price, I was afraid I was going to like it.
In the other corner, I had a fear of having a mass break out because of the list of irritable plants in this product.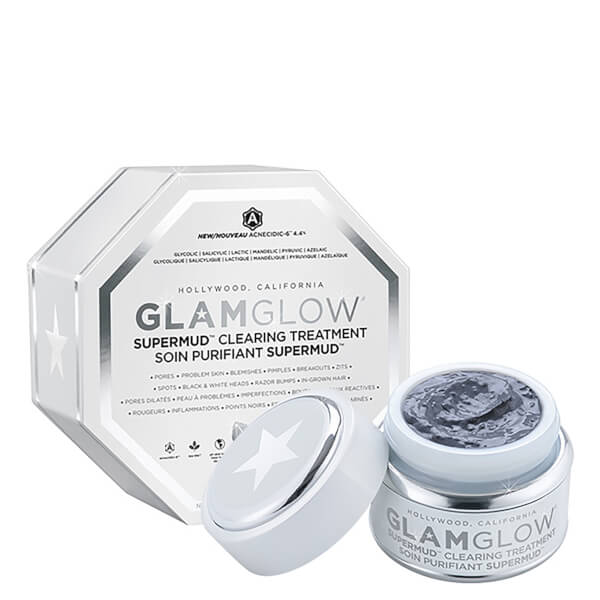 The Product
When I first applied the Glamglow mask I was stunned at how little you actually needed –just enough to coat the skin in a thin layer (about two fingers filled in length). Once I began the application, it dried quickly and lightened in colour with my skin tightening beneath the mud.
The drying power of this is incredible. It took approximately 7 minutes for the full mask to harden. Then, dark spot began to appear where the mask began to pull oil up from my clogged pores.
And I could see my Glamglow mask addiction begin. Seriously, there is something so satisfying in watching these little black dots appear.
When scrubbing it off, it does feel a bit scratchy. Like wiping off fine milled black sand. So it does have minimal exfoliating properties.
Final Thoughts?
There are irritable plants listed in the Supermud Clearing Treatment. So those with sensitive skin may be turned off of this.
I have combination skin and this felt amazing on my  T-zone and cheeks but it felt sucked the life out of chin area. Those who have dry skin may want to avoid this product as it can feel very drying. I recommend this for combination skin and oily skin individuals.
As an after effect of doing this mask, my skin felt clean for days. This is an experience I have never had with a mask before. Normally my skin would feel refreshed up to 24 hours after.
There was a clear difference in the texture of my skin. Surface bumps were clearly minimized.
Would I buy the full-size version?
No. For $69 CAD I would not buy the full-size version. The way this is packaged means the organic materials in this will lose their potency. Thus, based on how little you actually need for the mask, the Supermud would diminish before I could use a full-size container.
However, for $24 CAD you can purchase 5 single use packets. This is more consumer friendly and does not waste product.
Did you find this review helpful? Let me know in the comments below and don't forget to give this post a like!
You can also follow Lidsandtricks on Twitter, Pinterest, Facebook, Instagram, and Bloglovin'.